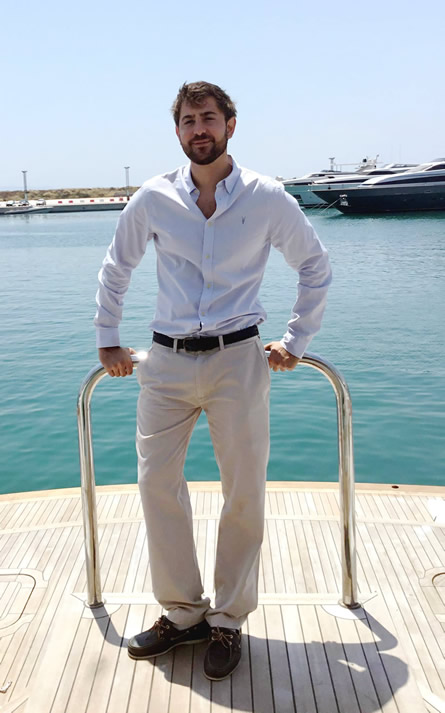 Which do you think is the secret of a successful family business?
Being successful has many parameters to take into account there is no thing as one secret. First, one has to establish a system within the organization that enables all personnel to work as a TEAM in order to go forward and to separate family with business when coming into the office. A family business like everything has its ups and downs but working together with a common goal and a common 'pocket' helps protect the company and promotes the business since all have the same vision – to see it grow as big as possible with careful and unrushed steps. Of course hard work, commitment and dedication are all part of a successful business, which is no secret. What the past Generation have taught you?
The past generation has taught me countless things that I would have never acquired in the years that I am involved in the shipping industry. It has taught me to 'walk while others run' and to think very carefully before any move is done. Being patient in this industry is key in succeeding and striking in the right time, since shipping is simply cycles and hitting in the right time is most crucial. Having years and years of experience on your back enables you to avoid doing many mistakes since they have been done in the past and they guide you accordingly with their experience helping minimize mistakes. Of course they say that only once you make the mistake you will learn, but in this case since past generations have had to 'take a hit' they teach you to avoid them but nevertheless mistakes are inevitable and sometimes healthy to learn from. Which are the challenges you have to face up as 3rd Generation owner?
One may think that it is easy when starting as a 3rd generation owner, which is something we are obviously blessed, grateful and fully appreciate the hard work, countless hours and sweat, blood and tears that have been sacrificed to bring us where we stand today. Bringing new ideas and change is something that needs time for previous generations to adopt with and quite a lot of convincing since that system worked successfully for them and of course very few are open to change. But as technology innovates and the industry changes in some matters, the company needs to adapt to the new era. To add, creating such a company is absolutely difficult but holding on to it may sometimes be even harder. There is a 'mixed' weight on your shoulders to keep this company going and grow it as much as you can, making the vision of the past generations and yours reality. How did the previous generations begin planning the transition for building a 3rd Generation of successors?
Careful and well thought of steps have been taken by the generations before us to prepare for transition for building a 3rd generation of successors. This started at a very young age for us, firstly teaching us to love the sea, love shipping and love this industry. Most of our childhood memories were on a yacht where we lived on the sea, making this quite easy for us! Modernising the fleet, having mortgage free ships and slowly giving us responsibilities have strongly prepared us to be able to ' grab the wheel' and 'captain the ship'. Would you like to add something more?
I would like to thank OceansCaptain for the cooperation in yachting until today and wish the best for the future development of the company and to our mutual cooperation.I believe that 2020 will be one more year with new partnerships between the two companies that will "wind" new yachting challenges to ocean .